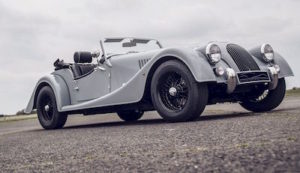 It seems like just yesterday we were enjoying the sunny winter weather here in Los Angeles, busy foot traffic at our showroom checking out the latest inventory, moving, shaking, "handshaking" over dream car deals and sales! Fast-forward a few weeks and my how times have changed! With the Black Swan event of Covid19, the past few weeks have created monumental challenges for the world, as well as our little corner in the collector car market. Car shows canceled, auctions canceled or postponed, even just the ability to do business, money transfers, vehicle transportation, etc., everything turned upside down with unprecedented business issues and impacts.
What does it mean for classic car buyers and sellers? Is it a good time to buy or sell that classic auto? The news has been intense and changing every day. But taking in the big picture our lives carry on, and daily news on the extreme looks to be leveling off. Also take note that the classic car market has proven itself very resilient through many past crisis and economic shocks, even during the 2008 market crash. Will a soft landing be the case this time? Nobody knows, but count us here at Beverly Hills Car Club as optimists! So far the worst case predictions of a collector car market sell off have not occurred, cars are not flooding the market or selling at crazy discounts.
"We're seeing an increase in foot traffic, appointments, a lot of online visitors, as well as great engagement and support on social media." says Beverly Hills Car Club owner Alex Manos. "We have an international clientele, and especially overseas in Europe we're finally seeing a reopening and awakening from our classic car buyers and sellers there." "And having a big online car dealer presence helps us out a lot versus the more traditional brick-and-mortar competition, the car auctions, public events, and such. We're hopeful this summer's reopening is actually the perfect moment for us. We have a great current inventory of cars and we're ready to do business!"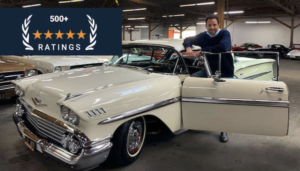 What about recent industry data? Here's an article from the venerable hagerty.com. Transactions are still happening, events are happening, just moving online – Zoom anyone? H&H, RM Sotheby's, Mecum, Classic Car Auctions, The Market and Collecting Cars are all looking at expanding online auctions. The over-$100,000 car market is still looking great, and while project cars or C-level collectibles might be a little soft, there is an active market here as well with opportunities for both buyer and seller.
Is it safe? Selling to a global clientele means many customers never actually step foot at Beverly Hills Car Club. Purchases and paperwork all happen digitally, and car shipping is completely hands-off until your car is delivered. If you're looking to sell a classic car, we often just need a few photos of the vehicle to make an offer! Then our nationwide car pick-up services will arrange for as hands-free collection of your vehicle as is possible, and meantime payment will already be sent electronically and waiting in your account.
We're all having to make adjustments, but we also have to live our lives – and drive these cars! Indeed, what could be more safe in keeping within the rules of quarantine and social distancing than driving your classic car – safe, enjoyable, and a sound financial asset!
One thing's for sure, car lovers will continue to enjoy owning and trading these great vehicles. As a global classic car dealer focused on European classic autos, Beverly Hills Car Club looks forward to getting you back on the road and we always have a great inventory waiting of classic Mercedes, Jaguar, Porsche, Ferrari, Austin Healey, Alfa Romeo and more! Our vehicles are safely stored and shipped, and we're doing our best to keep up and respond to any uncertainties in the current market. We're available via immediate phone and email contact (click here).
Whether you're looking to buy internationally, or sell from anywhere in the US nationwide, our team is ready to do business! (with our N95 masks on!)