Buying a 1952 Jaguar XK120 Fixed Head Coupe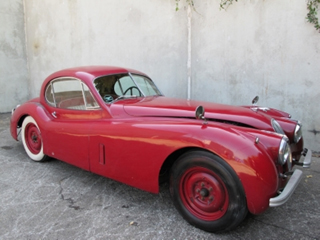 At the time of its launch in 1948, there were only a few cars that could actually compete with the Jaguar XK120. A competitive Ferrari would cost buyers more than three times the price of a very comparable XK120, and the Austin-Healey would not come out until nearly two years after the Fixed Head Coupe was released in 1951. There were other brands such as Frazer-Nash, but they did not produce the volume of cars that Jaguar did. Thus, the 1951 Jaguar XK120 Fixed Head Coupe (and other model-years) was a fantastic option for buyers both then and now. Perhaps the real unsung hero of the XK120 lineup was the Fixed Head Coupe. An attempt to broaden the appeal of the XK120 line by enclosing the passenger cabin for bad weather, the 1952 Jaguar FHC would confront the practicality issues of driving a Jaguar XK120. The Fixed Head Coupe was more than just a Roadster with a hardtop, however. It was meticulously designed and crafted, a true tribute to the glory days of British motorcars.
---
Looking to purchase a classic Jaguar?

---
1952 Jaguar XK120 Fixed Head Coupe Buyers Tips
If youre inquiring about buying the 1952 Jaguar XK120 Fixed Head Coupe in the United States, youll be happy to know that the majority of these cars were exported and the U.S. is where youll find the majority of remaining examples. Because of this, most of the XK120 Fixed Head Coupe models were built with left-hand-drive, although a few right-hand-drive cars were built and also exported. Throughout its six-year production period, Jaguar would sell 12,045 XK120s, of which only 2,672 were Fixed Head Coupes. The coupe, then, is considerably more rare than the Roadster or the Drop Head Coupe models, yet because of its fixed roof, is much less expensive. With the exception of rust, the Jaguar XK120s have proven to be quite sturdy over the past six decades. Buyers should take note of any rust damage to these delicately curved body panels, which can be expensive to repair. The Moss gearbox should also be inspected. While delicate shifts are necessary, most of these gearboxes remain in great condition and are perfectly capable of transmitting power to the engine. For other Buyers Tips such as these, The Beverly Hills Car Club team encourages you to contact them today!
Based in Los Angeles, The Beverly Hills Car Club is a California classic car dealership with a reputation for fair and honest car deals. Their team of extremely knowledgeable and professional sales people looks forward to helping you find the 1952 Jaguar XK120 Fixed Head Coupe youve always dreamed about. To learn more, connect with their team today. In the meantime, be sure to browse this website for more information and to view current inventory. Connect today!
---
| | |
| --- | --- |
| 1952 Jaguar XK120 Details: | Learn More About Classic Jaguars: |
| | |
Spread the word!
---
We Also Buy Classic 1952 Jaguar XK120 Fixed Head Coupe In Any Condition, Top Dollar Paid.
And We Pick Up Anywhere In The USA.

---