Buying a 1955 Porsche 356 Pre-A Speedster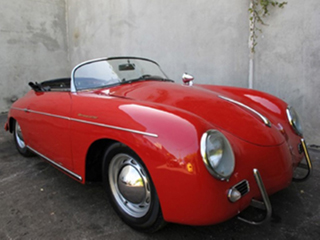 The 1955 production year was the last for the Pre-A Porsche 356 models before the release of the Porsche 356A. Although this is not an official designation, the Pre-A models are characterized by their windshields, which look like a wide-open V from above. It is important to mention, however, that if you're looking at a 1955 Porsche 356 Pre-A Speedster, this windshield rule does not apply. The Speedsters always had a special curved windshield that was removable. The Speedster, which was introduced in 1954, was a basic, low-cost variant of the Roadster. It is said that Max Hoffman, the sole U.S. importer of Porsches at the time, advised Ferdinand Porsche that a lower-cost open-top version would sell well in the American market; and he was right. The Speedster was an instant hit, especially in Southern California where the nearly perfect weather, beautiful landscape and pristine scenery made driving the 356 as an open-top Speedster even more enjoyable. Today, the Speedster is one of the most popular models in the 356 lineup, particularly those in the Pre-A designation.
---
Looking to purchase a Classic Porsche?

---
1955 Porsche 356 Pre-A Speedster Buyer's Guide
During the 1955 production year, approximately 1,034 of the 1955 Porsche 356 Pre-A Speedsters were manufactured. It is unclear how many of these exceptional autos remain in existence today. If you're thinking about buying a 1955 Porsche Pre-A Speedster, or any 356 model, it is imperative to understand the overall condition of your potential purchase. Value of these classic Porsche models is almost directly correlated to condition, as restoration costs can be quite expensive. It is important to note, however, that although there are general guidelines and ways to differentiate a 356 Pre-A from a 356A, nothing is absolute for these early models. Porsche was a very small operation at the time and supplies were not always available, so the factory would manage with what they had on hand. This is one of the characteristics that collectors love about these early 356 Pre-A models. When searching for a 356, always do your research and be sure to confirm originality and authenticity by double-checking chassis and engine numbers against Porsche records.
Thinking about buying a 1955 Porsche 356 Pre-A Speedster? The team of classic car professionals at The Beverly Hills Car Club is always standing by to discuss model-specific Buyer's Tips with you and to answer any of your questions. They also invite you to tour their online inventory to view the classic Porsche models currently in their showroom. Questions? Connect with their California classic car dealership today!
Learn More About Classic Porsches:
Spread the word!
---
We Also Buy Classic 1955 Porsche 356 Pre-A Speedsters In Any Condition, Top Dollar Paid.
And We Pick Up Anywhere In The USA.

---