Buying A Porsche 356 Pre-A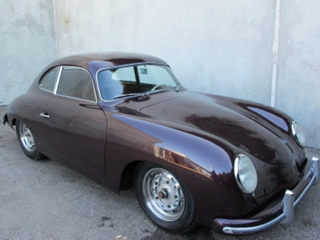 The Porsche 356 was the first production vehicle to carry the Porsche name. After starting production in Gmund, Austria with aluminum bodies, production was moved to Stuttgart and the bodies for the Coupes were produced by Reutter in steel and the Cabriolets were made by the firm Glaser. The first version of these Reutter and Glaser cars – produced from 1950 to 1955 – are known as the "Pre-A" cars. Many of the Porsche 356 Pre-A models are immensely rare, specifically the first 500 cars produced from the first model-year of the official Porsche production at Stuttgart, of which only a handful remain complete and in running order. If you are looking to buy classic Porsche models, particularly the 356 Pre-A, you've come to the right place!
---
Looking to purchase a Classic Porsche?

---
Porsche 356 Pre-A Buyer's Tips
The professionals at Beverly Hills Car Club specialize in the purchase and sale of classic Porsche 356 models, including the 1950 through 1955 Porsche 356 Pre-A autos. Here are a few tips for spotting an original 356 Pre-A: First, the most significant feature of a Pre-A is the windshield – a dead give-away on cars made before 1956. The Pre-A windshield, as seen from above the car, is shaped like a wide-open "V", whereas all post-1955 windshields are curved. This rule applies to both the Coupe steel top version and the Cabriolet soft-top version, but not the Speedster, which always had a special curved windshield. Additionally, the Porsche 356 Pre-A cars had two different types of windshield (both open "V" shaped). There was a split windshield, which was made of two pieces of glass with a large vertical rubber strip in the center, and a bent windshield also in the open "V" shape. Split windshield 356 Pre-A models are perhaps the most rare, being used for only two years – from April 1950 to April 1952. These are just some of the distinguishing characteristics of the 356 Pre-A models.
Not sure which model you have or are looking for? The team at Beverly Hills Car Club can assist. Connect with their team of trusted representatives to learn more. Whether you are looking to buy vintage Porsche models like the Porsche 356 Pre-A or simply want to explore their inventory of available cars, the team looks forward to hearing from you soon. Connect today to get started!
Porsche 356 Pre-A Production Years:
Spread the word!
---
We Also Buy Classic Porsche 356 Pre-A's In Any Condition, Top Dollar Paid.
And We Pick Up Anywhere In The USA.

---