Buying A Porsche 356 A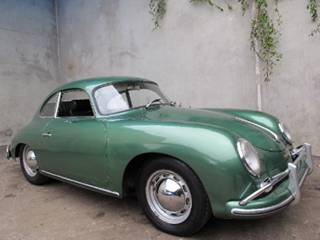 Introduced in 1955, the Porsche 356 A offered numerous small but significant changes from the original Porsche 356 Pre-A models. Often known as T1 among enthusiasts due to its internal factory designation Type 1, one of the main differences between the 356 A and Pre-A models was the windshield. Pre-A models featured a split or bent windshield that looked like an open V from above, while from 1956 to 1959, the type 356 A used a curved windshield. For much of the production, the body remained basically unchanged, with the front having its typical rounded fenders with low mounted headlights. A Porsche 356 A can also be differentiated from a Pre-A model by looking at the wheels. A Pre-A model will have 16-inch rims, while the 356 A model changed to 15-inch wheels.
---
Looking to purchase a Classic Porsche?

---
Porsche 356 Buyer's Tips
Other changes were made throughout the 356 A production years, however most significant was in March 1957 when in the rear the beehive taillights used since 1953 were replaced with one-piece teardrop units on each side and the license plate light housing and back-up light was moved from above the license plate to below the license plate. This is often called the shine up license plate light. Further variations were introduced in 1957 when a second revision of the Porsche 356 A was produced, known as the Type 2 or T2. The most significant styling and technical refinements of 1959 then gave way to the 356 B.
If you're looking to buy vintage Porsche models, including the Porsche 356 A, it is imperative to understand the make and model of the vehicle you are interested in. With so many variations out there and so many reproductions and kit cars marketed as originals ensuring you are not overpaying for a 356 can prove to be difficult. The team at Beverly Hills Car Club specializes in helping clients buy classic Porsche models and would be happy to assist you in your search for the ideal car and to educate you on the different models. Connect with their team of professionals to learn more about your options and to start browsing available inventory today! They look forward to hearing from you soon.
Porsche 356 A Production Years:
Spread the word!
---
We Also Buy Classic Porsche 356 A's In Any Condition, Top Dollar Paid.
And We Pick Up Anywhere In The USA.

---