Buying or Selling a 1970 Rolls Royce Phantom VI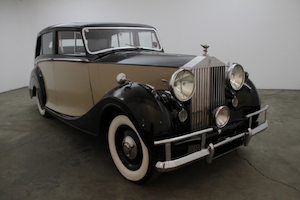 Rolls-Royce developed the Phantom VI to complete with the faster and more powerful cars on the market at the time. Its 6.2-liter V8 engine is a major upgrade in power and performance from the V6 engines that powered the Phantom V. Despite its large size and weight of 2.5 tons, the 1970 Rolls-Royce Phantom VI is able to reach 112 mph on the highway. One of the biggest benefits of driving a Phantom VI is that you get the power of a performance car combined with the size and comfort thats associated with its ultra-luxury image. The automobiles drum brakes and power steering system make it easy and comfortable to control in any situation. Furthermore, when it comes to craftsmanship, nothing can compare to the Phantom VI models. Its iconic limousine body style was designed by Mulliner Parker Ward, one of the most successful coachbuilders in the business at the time, and the interior was carefully designed for maximum space and comfort.

---
Looking to purchase a classic Rolls Royce?
---
1970 Rolls Royce Phantom VI Buyers Guide
The 1970 Rolls-Royce Phantom VI was one of the most expensive cars in the world at the time of its release, and restored models continue to boast a high ticket price. Rolls-Royce created less than 375 versions of this iconic model, making it a rare and coveted item among collectors. Working versions of this car have sold for as much as $400,000 and $500,000 at auctions.

Before you buy your coveted Phantom VI, it's important that you carefully access any prospective cars to make sure that they're in a condition that's suitable for you. You're recommended to hire an inspector who is knowledgeable of Rolls-Royce models and knows exactly to look for, so that you're guaranteed to get a '70 Phantom VI in its original condition. Consider reaching out to the skilled personnel at the Beverly Hills Car Club. They have years of experience working with various types of classic cars, including all Rolls-Royce Phantom models. They can answer any questions that you have and use their extensive connections to find your special classic car!

Learn More About Classic Rolls Royce Phantom:
Spread the word!
---
We Also Buy Classic 1970 Rolls Royce Phantom VI In Any Condition, Top Dollar Paid.
And We Pick Up Anywhere In The USA.

---