Selling or Buying a 1968 Ferrari GTC?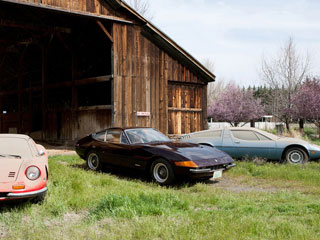 When the Ferrari 330 GTC coupe debuted at the 1966 Geneva Motor Show, it was acclaimed as one of the most elegant cars built by Ferrari. With a perfectly streamlined body, a rear-mounted transaxle that provided impressive balance and a luxurious interior with ample space for both passengers and luggage, it quickly became a big hit with the media as well as Ferrari lovers. That is still true today after all these years. The 1968 Ferrari GTC came in two versions. The 330 GTC had a front-located 60o 3.9-L Colombo V12 engine capable of producing a maximum power of 300 hp at 7,000 rpm. These specifications enabled the car to reach a top speed of 150 mph and achieve an initial acceleration of 0 – 60 mph in less than 7 seconds. The Ferrari 365 GTC, which followed later that same year, had a front-located 60o 4.4-L Colombo V12 engine, which was capable of producing a maximum power of 320 hp and achieve an initial acceleration of 0 to 60 mph in less than 7 seconds. Should you be interested in acquiring a 1968 Ferrari GTC for personal use or as an investment, do not hesitate to call The Beverly Hills Car Club team at their Los Angeles classic car dealership.
---
Looking to purchase a classic Ferrari?

1968 Ferrari GTC Buyers Guide
The elegant 1968 Ferrari GTC is a true work of art as far as sports car designs go. Sportier than their predecessors, the Ferrari 330 GTC and the 365 GTC were both dubbed the best all round Ferrari by the press at the time. The 365 GTC is one of the most rare classic cars on the market with only 162 built. Each engine carries a plate signed by the engineer as a mark of pride. Be sure to look for it when you find an example youre interested in. Because of their rarity, originality and authenticity are highly important. The Beverly Hills Car Club always recommends hiring a third-party inspection service to help you understand the overall condition of the car, as well as authenticity and originality. Furthermore, you should always ask the sellers for any documentation they may have regarding the cars history of ownership, maintenance, restoration or repair. These documents, when available, cannot only help add value, they can help you sell your classic Ferrari down the road if necessary.
If you are interested in buying a 1968 Ferrari GTC, please call The Beverly Hills Car Club team today. The team will guide you through the buying experience in a friendly and hassle-free manner with the best quality of service. Connect with their team today to learn more. They are standing by to take your call.
Learn More About Ferrari GTC:
Spread the word!
---
We Also Buy Classic 1968 Ferrari GTCs In Any Condition, Top Dollar Paid.
And We Pick Up Anywhere In The USA.
---