Buying or Selling a 1989 Rolls Royce Corniche II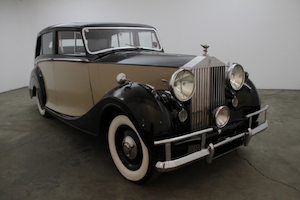 The 1989 Rolls-Royce Corniche II was the last of model year to be sold under the Corniche II name. The Corniche II is a beautiful two-door convertible that perfectly showcases the elegance and prestige of British automobile engineering. Just like its predecessor, the Corniche II came equipped with a powerful 6,750cc OHV V8 engine that allowed the car to reach a maximum speed of nearly 120 mph. Much of the working parts of the Corniche II were similar to the later Corniche I models. It had the same hydraulic self-leveling suspension system and three-speed Turbo Hydramatic automatic transmission that made the original Corniche popular. The Corniche II did receive some upgrades, however. It was fitted with a special oil cooling system, improved anti-lock brakes, and an aluminum radiator. The Corniche II was also given some minor changes as well, like upgraded seats, a modified dashboard, and reverse warning lights.
---
Looking to purchase a classic Rolls Royce?
---
1989 Rolls Royce Corniche II Buyers Guide
There are few cars in the 1980s that are as luxurious as the Rolls-Royce Corniche II. With a total of 1,234 units produced globally, the Corniche II is a rare automobile that's coveted by collectors around the world. If you are looking for a beautifully maintained 1989 Rolls-Royce Corniche II to add to your collection, let the friendly professionals at the Beverly Hills Car Club help. You will get assistance from a team that has years of experience dealing with American and European classic cars. They are happy to answer any questions that you have about the Corniche II or any other Rolls-Royce models, and can even assist you with finding your prized car.
Going through the Beverly Hills Car Club to find your 89 Corniche II means that youll receive help finding a car thats authentic and with all its original parts. No worrying about investing your money in an automobile thats a replica! Call the Beverly Hills Car Club today to learn more about how you can get started with finding your dream car!
Learn More About Classic Rolls Royce Corniche:
Spread the word!
---
We Also Buy Classic 1989 Rolls Royce Corniche II In Any Condition, Top Dollar Paid.
And We Pick Up Anywhere In The USA.

---