Buying or Selling a 1993 Rolls Royce Corniche III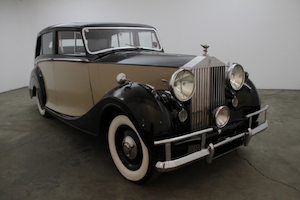 The 1993 Rolls-Royce Corniche III was the last of the Corniche III model years. It was a two-door convertible coupe that was designed to be powerful and elegant. Like other Rolls-Royce models, the Corniche III was an exclusive luxury automobile that showcased the finer side of British automobile engineering. The Corniche III was equipped with the same powerful 6.75-liter OHV V8 engine and three-speed automatic that other model years were fitted with. This engine and transmission ensured that the Corniche III was quick, powerful, and able to drive smoothly on the highway. Overall, the Rolls-Royce Corniche III received few upgrades that set it apart from its predecessor, the Corniche II. The Corniche III's biggest upgrade was the addition of airbags. This safety upgrade ensured that the Corniche III was one of the safest motor vehicles on the road at the time. Other minor upgrades on all Corniche III model years include modified seats, a different dash system, and an upgraded MK-Motronic fuel injection system. Overall, the 93 Corniche III performed similar to Corniche II and later Corniche models.
---
Looking to purchase a classic Rolls Royce?
---
1993 Rolls Royce Corniche III Buyers Guide
All of the Rolls-Royce Corniche models are highly coveted among collectors and investors. For this reason, many people will pay top dollar to acquire a 1993 Rolls-Royce Corniche III. If you are looking to add this classic model to your collection of luxury automobiles, let the friendly professionals at the Beverly Hills Car Club help you along the way. They are experienced with working on classic cars from across the world, including Rolls-Royce models, and are happy to answer any questions that you have. The Beverly Hills Car Club can even assess any prospective models that youre interested in buying, so that you dont wind up purchasing a car thats not authentic or is in a bad condition.
The benefit of going through the Beverly Hills Car Club to get your Corniche III is that theyll do the work for you. They are happy to help you find a 1993 Corniche III thats in a good condition and waiting for you. Call their Beverly Hills office to learn more.
Learn More About Classic Rolls Royce Corniche:
Spread the word!
---
We Also Buy Classic 1993 Rolls Royce Corniche III In Any Condition, Top Dollar Paid.
And We Pick Up Anywhere In The USA.

---