Buying or Selling a 1990 Rolls Royce Corniche III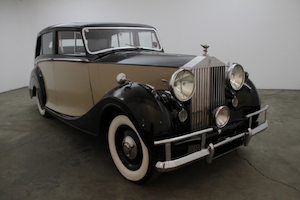 The Rolls-Royce Corniche III is the third generation of the Corniche, Rolls-Royces popular two-door sedan that was inspired by the Silver Shadow. The Corniche III is an elegant automobile that was designed to be powerful and luxurious. It comes in a convertible body style and has the same 6.75-liter V8 engine that its predecessors had. Like the previous model year, the 1990 Rolls-Royce Corniche III was built with a modified suspension that helped the car drive smoother than the first and second generation Corniche models. It also received minor upgrades, like improved woodwork, upgraded rims, and an identification plate on the trunk that says Corniche III. Perhaps the biggest upgrade that the Corniche III received was airbags, which helped to make the automobile one of the safest cars on the road.
---
Looking to purchase a classic Rolls Royce?
---
1990 Rolls Royce Corniche III Buyers Guide
The Rolls-Royce Corniche III was an exclusive classic car that represented wealth and status. With only 452 units manufactured, the Corniche III was an automobile that was difficult to acquire. This exclusivity helped boost its image as the best automobile for high society, and is also why well-preserved Corniche III cars are in high demand today.
Adding the 1990 Rolls-Royce Corniche III to your automobile collection means that you get to own a piece of engineering excellence. There are few cars on the road that can turn heads as much as one of the Corniche models. If you're serious about adding the 1990 Corniche III to your collection then let the Beverly Hills Car Club help. They are knowledgeable about classic cars from around the world and will be happy to answer any questions that you have on the Corniche III or any other Rolls-Royce model. They can also help you find a Corniche III that's beautifully maintained and has all its working parts. If you would like to know more about how you can get the car you've always wanted, give the Beverly Hills Car Club a call today!
Learn More About Classic Rolls Royce Corniche:
Spread the word!
---
We Also Buy Classic 1990 Rolls Royce Corniche III In Any Condition, Top Dollar Paid.
And We Pick Up Anywhere In The USA.

---