Buying A 1957 Mercedes Benz 300SL Roadster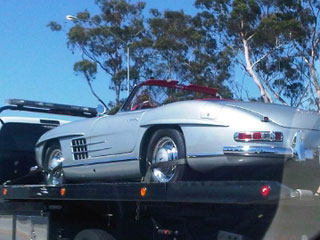 Mercedes-Benz introduced a Roadster version of the 300SL at the 1957 Geneva Motor Show. The 1957 Mercedes Benz 300SL model effectively replaced the popular Mercedes 300SL Gullwing coupe, which was retired that year. Priced at $11,000, it was more expensive than the outgoing coupe and offered a host of upgrades. Like the Gullwing, the roadster featured roughly the same engineering underneath, but the body was changed to incorporate regular doors. Detail differences included larger front fenders, larger European headlights, a small grille, a rounder front windscreen and a chrome accent strip running down the side of the car.
---
Looking to purchase a Classic Mercedes?

---
1957 Mercedes Benz 300SL Buyer's Tips
Much like the Coupe, the 1957 Mercedes Benz 300SL Roadster was available with a wide variety of options, some of the most popular included the hardtop, Rudge wheels, and fitted rear luggage. If you are looking to buy Mercedes 300SL classics, it is important to remember these Mercedes 300SL models are quite expensive to restore, as parts are not only rare because of production numbers, but also difficult to find. When purchasing a 300 SL it would behoove you to purchase the best car you can for your money. Roadsters from 1957 to 1960 can range anywhere from the mid $80,000's for a poor condition model to well over $500,000 depending on the rarity, originality, condition, etc. It is also important to note that condition of car cannot be determined by its location. For example, just because a car is in California today does not mean that is where it started life. As always, documents and records are key.
When you're ready to learn more about the 1957 Mercedes Benz 300SL or are ready to buy classic Mercedes of any model, the team at The Beverly Hills Car Club looks forward to assisting you. Having assisted countless buyers and sellers with their automobile needs, it would be their pleasure to help you find the 300SL Gullwing or 300SL Roadster to meet your standards. Connect today to get started!
---
| | |
| --- | --- |
| 1957 Mercedes Benz 300SL Details: | Learn More About Classic Mercedes Benz 300SL: |
| | |
Spread the word!
---
We Buy 1957 Mercedes Benz 300SL, Any Condition, Top Dollar Paid.
Pick-Up Anywhere In The USA.
---