Buying A 1956 Mercedes Benz 300SL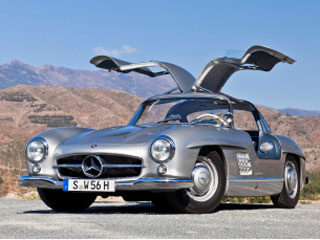 The 1956 Mercedes Benz 300SL or Super Leicht Coupe is famously nicknamed the Gullwing after its unusual swing-up doors. A Gullwing is one of the rare instances in collector cars where the coupe is more valuable than the 300SL Roadster counterpart. Introduced in 1954, the production version of the 300SL could be purchased for the hefty sum of $7,000. This small, nimble sports car was elegant, attractive and fast. With a top speed of 130-155 mph, the Mercedes 300 SL Gullwing was one of the fastest vehicles of the 1950's. Quite simply, its performance, design, reputation and futuristic Gullwing doors were all responsible for the success of the vehicle and the iconic status it has to this day. In fact, the 300SL had a long history of historic racing appearances prior to its 1954 introduction to the public. Prototypes had been entered in the 1952 24-Hours of Le Mans where they were victorious as well as Mexicos Carrera Panamerican road race, Nurburgring and the Mille Miglia.
---
Looking to purchase a Classic Mercedes?

---
1956 Mercedes Benz 300SL Buyer's Tips
Those looking to buy classic Mercedes 300SL models understand the passion behind these exceptional automobiles. The Gullwing or butterfly-wing doors found on the 1956 Mercedes Benz 300SL were well received by owners and spectators and added a distinctive quality that could not be found in any other vehicle at the time. The doors where not without problems however, and buyers should be aware. Getting into and out of the vehicle was rather difficult. Due to the doors, the vehicle was also prone to leaking and difficult to repair. As a result, after just 1,400 examples, the Gullwing doors were replaced by the conventional doors on the 1957 300SL Roadster. More than 1,800 Roadsters were sold.
To learn more about the 1956 Mercedes Benz 300SL or to buy Mercedes 300SL models, the team at The Beverly Hills Car Club encourages you to contact them at your convenience. Experts in the acquisition and sale of classic and vintage European and American autos, their team of experts can not only help you find the ideal 300SL example for your collection, but can assist you throughout the process from finding the car to it arriving at your door. Connect with them today to learn more about the options available to you. In the meantime, please feel free to browse their current inventory of vehicles.
Learn More About Classic Mercedes 300SL:
Spread the word!
---
We Buy 1956 Mercedes Benz 300SL, Any Condition, Top Dollar Paid.
Pick-Up Anywhere In The USA.
---