Buying or Selling a Morgan 3-wheelers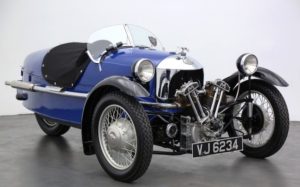 Morgan is a British automotive company that specializes in compact sports cars. Founded in 1910, Morgan Motor Company has a longstanding reputation for building superior quality European racing cars. One of the things that makes the company stand out from other sports cars manufacturers is the fact that many of their cars had three wheels. Morgan 3-wheelers like the Runabout, V-Twin, and F-Series cars dominated the sports car scene in the mid-1900s. Their quickness, handling, and superior suspension system made them perfect for racing. In addition, the unique look and feel of Morgan automobiles made them an instant success among investors whore interested in collecting unorthodox sports cars.
---
Looking to purchase a classic Morgan?
---
Morgan 3-wheelers Buyers Guide
Due to the fact that many Morgan 3-wheelers never saw sales in the United States, collectors are happy to pay top dollar for an automobile made by Morgan. This also means that finding one is quite the challenge. If youre planning on adding a Morgan automobile to your collection, youre going to first need to network at automobile shows and car museums. If this sounds like too much effort, you could always go through the Beverly Hills Car Club for help.
Since the Beverly Hills Car Club has an established network of collectors everywhere in the United States, they have a lot of people they can reach out to when trying to find your classic car. This will greatly increase their chances of finding Morgan 3-wheeler that youve always wanted to have. Unlike many other sellers on the market, the Beverly Hills Car Club also gives every classic car a thorough inspection so that they verify that your Morgan has all of its original parts, as well as give you an idea of its projected worth over time. If youre ready to add a Morgan to your classic car collection, or any other European or American sports car, call the Beverly Hills Car Club today and chat with one of their friendly professionals.
Learn More About Classic Morgan:
Spread the word!
---
We Also Buy Classic Morgan In Any Condition, Top Dollar Paid.
And We Pick Up Anywhere In The USA.
---