Buying or Selling a 1968 Rolls Royce Phantom V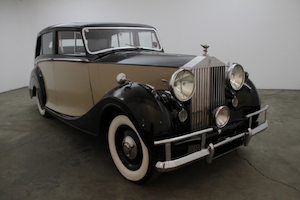 Its breathtaking to envision innovative risk-takers Charles Rolls and Henry Royce humbly inaugurating their partnership in 1906 only to have its ascendance within the automotive realm goes largely unmatched for decades thereafter. And this reality must surely have dawned upon the company once the 1968 Rolls Royce Phantom V went into full production, as this model, in particular, had done so much to place its manufacturer at the pinnacle of automobile manufacturing. There is no denying the truth of it: the 1968 Rolls Royce Phantom V was a faithful embodiment of the governing values which had guided its manufacturer to unparalleled heights across the span of well over a half-century. It was elegance, it was performance, it was power, and it was class.
And it was not entirely unique. Rather, the 1968 Rolls Royce Phantom V was built upon the foundation of the Silver Cloud II. Differences distinguished one from the next, certainly where coachwork and mass are concerned, but the Phantom V was indeed a 4-door saloon with a front engine, rear-wheel-drive layout. Like many body-on-frame constructions within the Rolls Royce family, the Phantom V was a canvas upon which many coachbuilders produced masterpieces of body design. Its hood concealed a massive V-8 (6.2-liter) that utilized a GM Hydramatic gearbox for smooth transmission between gears. It was also quite rare, with total Phantom V numbers amounting to just over 500 across ten years time. The rarity, the prestige, and the name ensured a first-rate clientele, including queens, celebrities, and the otherwise obscenely wealthy.
---
Looking to purchase a classic Rolls Royce?
---
1968 Rolls Royce Phantom V Buyers Guide
Place your trust in the Beverly Hills Car Club and enjoy a favorable search and vetting process in doing so. With recognized industry experts populating the staff and a reputation for excellent business conduct, the Beverly Hills Car Club is truly a cut above its competition by every worthwhile measure. View our website at your convenience and come to know our present inventory. Or better still, visit the showroom and acquaint yourself with our terrific staff members, all of whom strive to be worthy of trust and enduring business relationships.
Learn More About Classic Rolls Royce Phantom V:
Spread the word!
---
We Also Buy Classic 1968 Rolls Royce Phantom V In Any Condition, Top Dollar Paid.
And We Pick Up Anywhere In The USA.

---