Buying or Selling a 1961 Rolls Royce Phantom V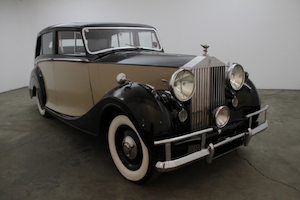 At well over a century old, Rolls Royce is the very essence of a cultural and national institution. Founded by Charles Rolls and Henry Royce in 1906, the company would go on to establish, meet, and ultimately surpass one set of impossibly high standards after the next for decades on end. Even within their respective lifetimes, the founders were very much aware of the prestige they were accumulating for their brand by simply adhering to a strict set of engineering and design principles. Perfection, and nothing lessthat was the aim. Nearly a half-century later, the 1961 Rolls Royce Phantom V would play its part in carrying the torch its manufacturer sought to keep aflame from generation to generation. Modeled in large part upon the Silver Cloud II, the 1961 Rolls Royce Phantom V was conceptualized, marketed, and sold with a small demographic in mind: namely, the very wealthy. Yes, the 1961 Rolls Royce Phantom V was the very essence of luxury, class, prestige, and exclusivity.
A 4-door body style utilizing an FR layout, as did the Silver Cloud, the Phantom V was bulkier in weight and size, but did not part ways with elegance in tacking on the additional mass. Instead, the contributions of pristine bodies from several premier coachbuilders ensured the Phantom V was preposterously beautiful to behold. And strength was also of no concern, as the commanding Phantom V was powered by a mighty 6.2-liter V-8 that motored the car about at respectable speeds. A smooth transmission, the Hydramatic, was provided by General Motors, a noteworthy contribution from the Yanks in piecing together this work of art. Only 516 were produced (all in Crewe, England) over the course of a decade, which renders this model comparatively rare within the luxury car space.
---
Looking to purchase a classic Rolls Royce?
---
1961 Rolls Royce Phantom V Buyers Guide
Fortunately, the expert staff members working in the employ of the Beverly Hills Car Club excel in locating rare models of all makes, years, and conditions. And quite often, the Beverly Hills Car Club has on-site the very sort of classic wheels for which you are looking. Once you are ready to experience the quality customer service that has been a longstanding hallmark of the Beverly Hills Car Club, head down to our showroom. We welcome the opportunity to earn your lifelong business.
Learn More About Classic Rolls Royce:
Spread the word!
---
We Also Buy Classic 1961 Rolls Royce Phantom V In Any Condition, Top Dollar Paid.
And We Pick Up Anywhere In The USA.

---