Buying or Selling a 1966 Rolls Royce Phantom V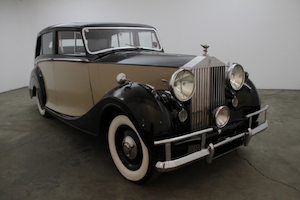 And there it was…a full sixty years since first Charles Rolls and Henry Royce had laid down, in 1906, the philosophical framework for their now famous and cherished automobile manufacturing company. In that year, the 1966 Rolls Royce Phantom V was sparingly produced in Crewe, England and successfully carried the torch for engineering and design perfection to which Charles and Henry had committed themselves three generations earlier. Neither could have anticipated the sheer degree to which their impossibly ambitious vision would be fruitfully and enduringly realized across the years ahead. And yet, realized it was, as elegantly embodied within the well-made, high-performance 1966 Rolls Royce Phantom V, a model whose class and prestige went entirely without saying within the automotive realm.
Despite its unique qualities and the extent to which it was sought after by elite owners, the 1966 Rolls Royce Phantom V was in fact modeled upon its contemporary the Silver Cloud II. This modeling applied to underlying structure, to functionality, and to its engine. It was a 4-door saloon and featured the FR layout. Under the lengthy and brilliantly designed hood rested a 6.2-liter V-8, which was a powerful engine more than equal to the task of keeping the Phantom V driving at suitable speeds across the motorways. And it was a body-on-frame construction, which inevitably implied the recruitment of various coachbuilders (Park Ward, James Young, Mulliner) in contributing pristine coachwork to the chassis. Of singular significance to the Phantom V, and to its place in automotive history, is the list of high-profile buyers who would come to know the model as their own. In short, the Phantom V was irrefutably the vehicle of monarchs.
---
Looking to purchase a classic Rolls Royce?
---
1966 Rolls Royce Phantom V Buyers Guide
The Beverly Hills Car Club is staffed by industry experts who pride themselves on matching clients with the luxury classics of their wildest imaginings. What sets the Beverly Hills Car Club apart from so many others in the space is the degree to which its leadership and professionals are intertwined with the international automotive community. In other words, if the wheels you seek are not in our showroom, we will work with you to find, assess, and smoothly purchase a set to your liking. Take our website for a spin or head down to the shop in person. Either way, we look forward to better acquainting you with our process and with ourselves.
Learn More About Classic Rolls Royce:
Spread the word!
---
We Also Buy Classic 1966 Rolls Royce Phantom V In Any Condition, Top Dollar Paid.
And We Pick Up Anywhere In The USA.

---