Buying or Selling a 1967 Rolls Royce Phantom V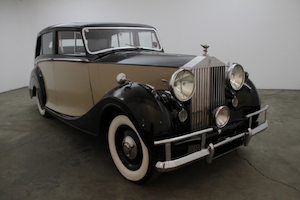 Icons and legends exist in short supply across the consumer landscape, and necessarily so; abundance tends to diminish demand. This lesson is doubly applicable in the case of the 1967 Rolls Royce Phantom V, and for obvious reasons. Firstly, its manufacturer was already a storied, celebrated, and iconic presence within the global automotive community when this unit rolled off the line. Its founders, Charles Rolls and Henry Royce, had set themselves to the noble work of realizing perfection within the automobile engineering space; they had enjoyed success in their lifetimes, but it was their legacy that would render them household names. And secondly, the 1967 Rolls Royce Phantom V saw very few units manufactured during its run. The model was strategically produced in sparing numbers, in order that its exclusivity might be further cultivated.
At its core, the 1967 Rolls Royce Phantom V was a close relation to the Silver Cloud II, which was also a 4-door saloon. Structurally and operationally, the Phantom V mirrored closely its otherwise less prestigious cousin. It was a body-on-frame construction, meaning its coachwork was provided by experts in that refined trade. It was front engine, rear-wheel-drive layout, as was standard in the Silver Cloud II. And its movement was owed to a fiery 6.2-liter V-8, a strong engine capable of tugging its carriage along the motorways in swift, smooth fashion. The Phantom V was heavy, which contributed to its stability, and enjoyed a seamless transmission from gear to gear; this last being attributable to the General Motors Hydramatic gearbox. Lastly, the rich, the known, and the powerful coveted the Phantom V. It was classy because of its make; it was regal because of those who came to own it.
---
Looking to purchase a classic Rolls Royce?
---
1967 Rolls Royce Phantom V Buyers Guide
Owning this piece of Rolls Royce history is very achievable here and now, particularly if you allow the Beverly Hills Car Club to do your heavy lifting. The Beverly Hills Car Club is staffed with well-connected experts who labor mightily to do work for their clients. Furthermore, the clubs leadership makes certain to keep its inventory well-populated with a wide range of classic makes and models of all years and styles. See as much for yourself when visiting our showroom at your earliest convenience. We welcome your company.
Learn More About Classic Rolls Royce:
Spread the word!
---
We Also Buy Classic 1967 Rolls Royce Phantom V In Any Condition, Top Dollar Paid.
And We Pick Up Anywhere In The USA.

---