Buying A Porsche 911T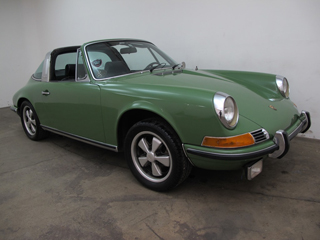 The original Porsche 911 offers a famous, distinctive and durable design, and was introduced in autumn of 1963 and was built until 1989. It was succeeded by a modified version, internationally referred to as the Porsche 964, but still sold as Porsche 911, as are the current models. Renowned for having a rear engine and being air-cooled, the 911 series was often cited as the most successful competition car ever, especially when its variations are included. In 1967, the 911 received its first, although very minor, update when the A series came along. At the same time, the range expanded. The standard car became known as the 911L for "Luxury" and sat alongside the high-performance 911S for "Sporting" and the entry-level Porsche 911T for "Touring."
---
Looking to purchase a Classic Porsche?

---
Porsche 911T Buyer's Tips
The Porsche 911T saw many different variations throughout its long history. The Porsche 911T A and B series ran from 1967 to 1968, while the C and D series ran from 1969 to 1971, the E series in 1972, and the F series in 1973. The F series of the 911T deserves a place in Porsche history, in that ones bound for the United States were the first 911's to be fitted with Bosch K-Jetronic fuel injection. Also called CIS injection, this all-new system kept emissions down and improved economy. In fact, 1973 was the final year that the carburetors were fitted to production 911's, so for this reason alone a late classic Porsche 911T is an attractive purchase today for many collectors and Porsche enthusiasts. Whether this is your first Porsche or you will be adding this car to a private collection, the team at Beverly Hills Car Club can assist you in finding the ideal auto to match your wants and desires.
Beverly Hills Car Club specializes in the purchase and sale of classic American and European autos. Helping clients buy classic Porsche models, find a vintage Mercedes barn-find, or sell a rare Austin Martin is what they do best. To learn more about their process or to explore their current inventory, please do not hesitate to browse this website at your leisure. Should you have any questions, they are always just a phone call away. Connect today!
Porsche 911T Production Years:
Spread the word!
---
We Also Buy Classic Porsche 911T's In Any Condition, Top Dollar Paid.
And We Pick Up Anywhere In The USA.

---