Buying or Selling a 1930 Rolls Royce Phantom II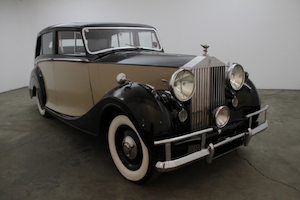 The Phantom II saw production between 1929 and 1935, where it set the standard for luxury and elegance. Like its predecessor, the Phantom I, this car was also equipped with a powerful 7.7-liter inline-six engine capable of establishing a certain level of dominance on the road. However, modifications to the car, like crossflow cylinder heads and an upgraded exhaust system, gave the Phantom II a 20 hp boost over the previous model. Additionally, the Phantom II also had a sportier look to it than older Rolls-Royce cars, which made it a popular automobile of its day. Furthermore, the Phantom IIs frame was also lower, which significantly improved the automobiles handling. This, combined with the limited number of models produced, makes the 1930 Rolls-Royce Phantom II, along with other year models, extremely popular cars in classic car circles.

---
Looking to purchase a classic Rolls Royce?
---
1930 Rolls Royce Phantom II Buyers Guide

Owning a Phantom II is like having a piece of automobile history. Despite being built during the economic times of the Great Depression, it maintained the same standard of elegance and luxury that has been traditionally associated with the Rolls-Royce name. If you plan on buying a 30 Phantom II, have any prospective cars inspected by an experienced assessor who is knowledgeable of classic cars or Rolls-Royce models. This will ensure that you get an authentic version of the car that youre looking for at a reasonable price.


If you would like further assistance purchasing a Phantom II, give the team at the Beverly Hills Car Club a call, or send them an email. They will be happy to answer any questions that you may have about different types of Phantoms, and classic cars in general. They have staff members with years of experience working with classic cars, and they can help you find just exactly what youre looking for. They can even help you find a Phantom II designed in one of the various body styles, including roadster, limousine, or saloon. For more information, visit the online catalog at their website or stop by the LA showroom!
Learn More About Classic Rolls Royce Phantom:
Spread the word!
---
We Also Buy Classic 1930 Rolls Royce Phantom II In Any Condition, Top Dollar Paid.
And We Pick Up Anywhere In The USA.

---