Buying or Selling a 1931 Rolls Royce Phantom II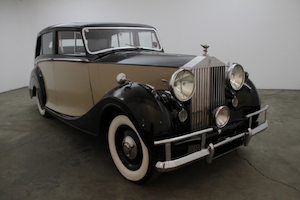 With less than 1,700 Phantom II models produced, the 1931 Rolls-Royce Phantom II would make a valuable addition to any classic car collectors inventory. This luxury car comes from a generation that is defined by grace and style, and its a shining example of British craftsmanship and engineering. The Phantom II puts out 120 bhp and is fitted with the similar 7,668 cc OHV inline-six engine that its predecessor has. The chassis to the Phantom II has also been modified to improve the handling of the car. Another upgrade that made the Phantom II more popular than previous Rolls-Royce models is that it ran much quieter, making for a more enjoyable driving experience.
---
Looking to purchase a classic Rolls Royce?
---
1931 Rolls Royce Phantom II Buyers Guide
The Phantom II was a highly-regarded automobile of its time. Its sporty body style and performance upgrades made it highly popular in its time. Additionally, automobile historians widely regard it do be one of the best looking Rolls-Royce models of the era. Its various awards and recognitions, combined with the limited number of models produced, make the 1931 Phantom II an expensive car to own. Collectors can easily pay as much as $500,000 to acquire one thats in a good condition. For this reason, its important that you consult someone whos experienced with classic cars and can help you find the right Phantom II for you. Fortunately, the friendly staff at the Beverly Hills Car Club have years of experience working with classic cars, including Rolls-Royce models, and can answer any questions that you have. Once you have determined the specific model year and Phantom II body style you want to purchase, they can even assist you with finding one that is authentic and in an acceptable condition.
If youre looking to buy a 1931 Rolls-Royce Phantom II, or any other classic car, contact the Beverly Hills Car Club. You're also welcome to stop by the LA showroom anytime, or you can browse their diverse collection on the company website. Your dream car might already be waiting for you!
Learn More About Classic Rolls Royce Phantom:
Spread the word!
---
We Also Buy Classic 1931 Rolls Royce Phantom II In Any Condition, Top Dollar Paid.
And We Pick Up Anywhere In The USA.

---