Buying or Selling a 1938 Rolls Royce Phantom III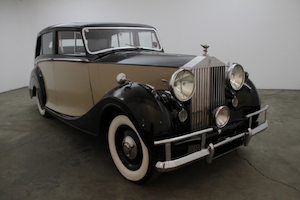 The Rolls-Royce Phantom III was one of the last large cars produced by the luxury automotive company, and was the final large-sized automobile manufactured before World War II. It was stocked with a powerful V12 engine with 160 hp, which was groundbreaking at the time. In addition, the Phantom III was capable of reaching over than 90 mph, but due to a manufacturing flaw, many of the models experienced engine failure and overheating. While this was primarily an issue with the first generation of Phantom IIIs, the 1936 model year, this defect didn't stop various European countries to restrict Phantom III drivers to a speed between 75 and 80 mph. Phantom IIIs all came with a four-speed manual transmission, but the 1938 Rolls-Royce Phantom III was the first to offer an additional feature: overdrive. This was essentially a fourth gear with a higher ratio, which helped protect engines from being overworked and damaged.

---
Looking to purchase a classic Rolls Royce?
---
1938 Rolls Royce Phantom III Buyers Guide
While the Phantom III is an excellent piece of automotive history to have in one's collection, acquiring one comes with its own set of challenges. Despite being an engineering marvel for the time, the Phantom III's reputation was marred by stories of defects and malfunctions. Because of this, Rolls-Royce only produced 727 models, and of those models, only 65 were shipped overseas to America. If you're still interested in owning a '38 Phantom III, consider giving the friendly and professional staff at the Beverly Hills Car Club a call. They can advise you on any technical aspects that you need to know about this specific model, and are also happy to answer any questions that you have.


Since the Beverly Hills Car Club team has years of experience working with classic cars, they have a network of professionals they can reach out to and help you find your dream car. Stop by the LA showroom or look through the company's website and have a glance at all of the cars they have in stock and waiting for you!

Learn More About Classic Rolls Royce Phantom:
Spread the word!
---
We Also Buy Classic 1938 Rolls Royce Phantom III In Any Condition, Top Dollar Paid.
And We Pick Up Anywhere In The USA.

---