Buying or Selling a 1939 Rolls Royce Phantom III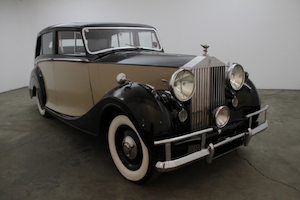 The 39 Phantom III was the last of the Phantoms to be built before World War II forced Rolls-Royce to suspend automobile manufacturing. The company wouldnt revive their Phantom line for another 11 years, when they released the fourth version of this model. The Phantom III was one of the few cars made by Rolls-Royce to be equipped with a V12 engine, which was capable of reaching over 90 mph with a fuel efficiency ratio of 8 mpg. The Phantom III had 160 hp and a four-speed manual transmission with overdrive feature, which was a modification that was added to the 38 and 1939 Rolls-Royce Phantom III models as a way to reduce engine stress and overheating. As with most Rolls-Royce models, the engine and mechanical work were done by Rolls-Royce, while the body was designed by Hooper, Barker & Co., and other leading coachbuilders of the time. The car came in a number of styles, like saloon, limousine, and even convertible.
---
Looking to purchase a classic Rolls Royce?
---
1939 Rolls Royce Phantom III Buyers Guide
Despite being its status as being classy and elegant, the Phantom III wasnt as popular as other Rolls-Royce models. This was largely because the cars released in 1936 were prone to overheating and other engine malfunctions, which severely tarnished the Phantom IIIs reputation. For this reason, less than 730 Phantom III cars were produced, and only a fraction of them made it to North America. Despite its struggles, the Phantom III was still widely seen in popular culture, and was the James Bond villain, Goldfinger.
If youre interested in owning a piece of history, especially one of the last of its kind, then the 1939 Rolls-Royce Phantom III is an excellent car to have. Before visiting auctions and car shows looking for your dream car, give the talented professionals at the Beverly Hills Car Club a call. They have a team with years of experience working with classic cars, including Rolls-Royce automobiles, and are eager to answer any questions that you have. They can even help you find that car youve been looking for!
Learn More About Classic Rolls Royce Phantom:
Spread the word!
---
We Also Buy Classic 1939 Rolls Royce Phantom III In Any Condition, Top Dollar Paid.
And We Pick Up Anywhere In The USA.

---