Rent Classic Austin Healey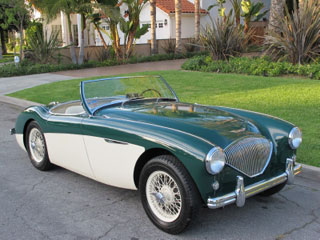 Classic Austin Healeys were sensational little cars, brilliantly built with sweet engines making a great engine noise and thrilling driving experience. If you're planning on renting an Austin Healey for a few hours or a few days, you won't be disappointed, providing you find a good rental provider. Not only is the Austin Healey a very fun to drive British auto, but also its body is very charming and typical. If you're thinking about a classic British car to rent and showcase at a themed party, the Austin Healey is a great choice. The Beverly Hills Car Club team is known for giving great advice to their customers and friends and the staff is ready to assist you whenever you wish to get started on your Austin Healey hiring process.
---
Looking to purchase an Austin-Healey?

---
Classic Austin Healey Rental
The Beverly Hills Car Club team has been operating in the classic auto industry for many years and as such, the team has developed an expertise of the models and a network of trusted individuals and companies renting classic cars. The Beverly Hills Car Club is based in Los Angeles and their showroom is the home for a large and growing inventory of vintage cars, including models of all makes, decades, and conditions. If you're in the neighborhood, please feel free to stop by and come meet the friendly team. The staff will give you a tour of the impressive inventory and take the time to discuss your needs in terms of classic car rental.
If like The Beverly Hills Car Club team, you're a fan of the little British roadster and would like to rent one for a few hours or a few days, the team would love to help. Based in Los Angeles, The Beverly Hills Car Club is famous for their impressive collection of classic cars for sale, from their pristine condition, rare models, to more affordable, common models that need some work. The team's excellent reputation is also based on their top customer service, with their representative's main objective being to help classic car enthusiasts get the car they want within their budget. Get in touch with the friendly staff whenever you're ready to look into your options for renting a classic Austin Healey. The team will assist you along the process, in a hassle-free environment.
Austin Healey Classic Rental
When looking to rent an Austin Healey, your first stop should be The Beverly Hills Car Club. The team is there to assist you in finding the best options on the market, to meet your requirements in terms of rental conditions and budget. They'll help you compare rental agreements and price match different offers to make sure you have the best possible experience. Moreover, The Beverly Hills Car Club team knows the market well, thanks to their many years of experience buying and selling classics of all makes, models and decades. Therefore, they are able to give you recommendations based on the different rental companies' reputations to avoid the hassle of dealing with poor customer service. Renting an Austin Healey should be a great experience and The Beverly Hills Car Club is determined to help you make it happen.
Whether it's for a wedding, a birthday, or any celebration, renting an antique car will likely make the day even more unique. Classic car enthusiasts will love it and the antique will give your event an extra touch; and your pictures will also get that something special! The Beverly Hills Car Club has been dealing with classic cars of all makes, models, and conditions for many years and the team has gained an unmatched expertise about all types of antique vehicles, as well as a strong knowledge of the current market availabilities. If you're looking to rent a classic car and unsure about what model fits your event the best, The Beverly Hills Car Club team is the best place to go. The team will help you find the best option and ensure you have an enjoyable and hassle-free experience.
Connect with The Beverly Hills Car Club team soon to hear more about their many services and recommendations when it comes to hiring a classic Austin Healey. The team is composed of specialists in vintage car rentals, who would be more than happy to assist you with your rental projects.
Learn More About Austin Healeys:
Spread the word!
---
We Also Buy Classic Austin Healeys In Any Condition, Top Dollar Paid.
And We Pick Up Anywhere In The USA.

---