Rent a Classic Ferrari?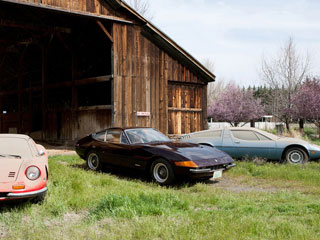 What better way to spend your Sunday morning than to rent a classic Ferrari and take the car out on the roads? The roaring engine and wooden steering wheel will make you feel like a movie star. When buying a classic Ferrari isn't an option, why not rent. Renting classic cars give you the possibility to enjoy the beauty and special driving experience without the hassle of dealing with storage, service, maintenance, and insurance. If you're not familiar with the process of renting a classic Ferrari or wondering about the terms of rental and rates, The Beverly Hills Car Club team would be happy to answer your questions. The staff has been working in the classic car industry for many years and as such, has developed an unmatched expertise of all makes, models, and decades, as well as a network of owners, experts, and classic car rental agencies. The Beverly Hills Car Club team is the best resource to guide you with classic Ferrari rental options and help you have the best possible experience.
---
Looking to purchase a classic Ferrari?

---
How to Rent Classic Ferrari
Driving a classic Ferrari may seem unattainable if you know someone who owns one and willing to let you drive. People don't naturally think about renting although it's a great and pretty affordable option. Get in touch with The Beverly Hills Car Club team to learn more about the different rental agreements you can find on the market and the rates that go with the different options. The Beverly Hills Car Club is known for their excellent customer service as well as the many tips and advice their often share with their clients and friends.
There are so many iconic models of classic Ferraris, from the most exotic examples such as the Ferrari 328 GTS, to more comfortable touring cars including the Ferrari 365 or the Ferrari 400 The Beverly Hills Car Club team would love to hear all about your ideas for renting, and advise you on a couple models that will meet your requirements and expectations. Models such as the legendary Ferrari 250 or the Scaglietti bodies work wonders on photo shoots, thanks to their spectacular lines. If you're looking for the vehicle to be driven by the main character in your movie, a 50-year-old male in the 1960s working for industrial manufacturing then you'll be good with a Ferrari 250 GTE 2+2.
When you're looking to rent a classic car for a special occasion, they are a few things to know. First, it's important to check the condition of the car thoroughly. Make sure you signal on paper any dents or scratch on the body. Then, you'll want to take a look at the mechanics and electronics. A few items to check include air-conditioning, lights, and starter: make sure the engine starts smoothly when you turn the key in the ignition (you don't want to get stuck when you want to take off). Please don't hesitate to contact the representatives of The Beverly Hills Car Club team and get started on your search for the right classic car for rent.
The Beverly Hills Car Club would love the opportunity to speak with you about classic Ferrari rental, should you have any questions. The team is a great resource for finding a good hiring company and also for narrowing down a list of models that best fit your needs. Connect today to get started on your search for a classic Ferrari for rent.
Learn More About Ferraris:
Spread the word!
---
We Also Buy Classic Ferraris In Any Condition, Top Dollar Paid.
And We Pick Up Anywhere In The USA.
---