Buying or Selling a 1962 Rolls Royce Silver Cloud II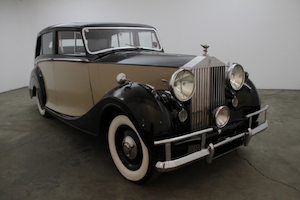 The better part of sixty years had passed since Charles Rolls and Henry Royce had released their 10 hp in 1904, and the company bearing their had grown beyond the founders wildest imaginings. Their guiding vision had been one of designing first-rate engines and housing them within precision frameworks of unequaled handling and performance. For its part, the 1962 Rolls Royce Silver Cloud II was every bit the embodiment of that vision, and Messrs. Rolls and Royce would surely have agreed had they lived to see it in action. In fact, the 1962 Rolls Royce Silver Cloud II was the last entry of its iteration, which had itself been preceded by the slightly lower-powered Silver Cloud I. And therein lies the most significant difference between second iteration and first: engine power.
While the first series had relied upon a perfectly respectable six-cylinder engine, the 1962 Rolls Royce Silver Cloud II was powered by substantially stronger 6.2-liter V-8. This increased both weight and performance, but the latter more so than the former. Top speed, acceleration, and torque were all enhanced in the Silver Cloud II in relation to the I, and features such as power steering were now present in every unit. And like earlier Rolls Royce designs, the Silver Cloud II was a body-on-frame construction, which allowed for the engine and chassis to be coupled with the creative design work of certain coachbuilders. The variants included fixed head coupe and drop head coupe versions, many of which were provided by the likes of coachbuilders Freestone & Webb, James Young, and Park Ward. In all, the Silver Cloud II was a fine middle act for a model that would was the commercial centerpiece of its manufacturer for over a decades time.
---
Looking to purchase a classic Rolls Royce?
---
1962 Rolls Royce Silver Cloud II Buyers Guide
Fortunately for Rolls Royce aficionados, the Beverly Hills Car Club specializes in tracking down, assessing, and acquiring classic luxury cars, to include the Silver Cloud II. Time spent with the Beverly Hills Car Clubs knowledgeable and helpful staff members will invariably prove valuable for car enthusiasts and dedicated collectors of all sorts, regardless of where you find yourself in the purchasing process. Visit the website for an overview of the lots present inventory, or visit the showroom and request a test drive or three.
Learn More About Classic Rolls Royce:
Spread the word!
---
We Also Buy Classic 1962 Rolls Royce Silver Cloud II In Any Condition, Top Dollar Paid.
And We Pick Up Anywhere In The USA.

---