Buying or Selling a 1950 Rolls Royce Silver Dawn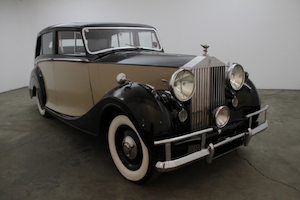 The 1950 Rolls Royce Silver Dawn was the second iteration of a full-size luxury model which would enjoy a seven-year run from 1949-1955. During that time, the model would average around 109 models each year, so that when its production timeframe reached an end, only 760 units had been manufactured. As the 1950 Rolls Royce Silver Dawn was part of a production run which did indeed span the better part of a decade, and as coachbuilding was employed in the turning out of luxury cars throughout the early and mid-20th century, this model was touched at varying stages by several coachbuilders. Among these were well-regarded outfits such as Pininfarina and James Young, as well as Park Ward, which Rolls Royce would ultimately absorb into its fold.
But what Charles Rolls and Henry Royce had in mind when establishing their now legendary automobile manufacturing operation (in 1906) was high-end engine performance and precision performance at every level. And in this regard, the 1950 Rolls Royce Silver Dawn delivered handily. The well-maintained units still do. Featuring a powerful straight-6 engine with a displacement of 4.3 liters (1949-1950) and 4.6 liters (1951-1955), the Silver Dawn offered its driver and occupants a muscular, steady drive. It was also manufactured in both right-side and left-side driving variants, as the model was intended for broad export. Unlike many classic cars makes/models, Rolls Royce units tend to stand the test of time rather well. This is welcome news to the ears of many interested buyers, seasoned vets and otherwise. That said, industry expertise and connections go very far in this business. Which is what makes a trip to the Beverly Hills Car Club sensible in the extreme once you are ready to begin your Silver Dawn search.
---
Looking to purchase a classic Rolls Royce?
---
1950 Rolls Royce Silver Dawn Buyers Guide
For years, the Beverly Hills Car Club has maintained a strong reputation as both a top-notch classic car dealership and as a magnet for auto industry talent. Automobile enthusiasts looking to make a purchase, or who simply hope to better understand the space, will find the Beverly Hills Car Club a friendly and welcoming environment in which to both peruse vintage wheels and strike up conversation with kindred spirits. Visit the Beverly Hills Car Club website right away for a look at whats on hand, or take a drive to the showroom for an enjoyable afternoon.
Learn More About Classic Rolls Royce:
Spread the word!
---
We Also Buy Classic 1950 Rolls Royce Silver Dawn In Any Condition, Top Dollar Paid.
And We Pick Up Anywhere In The USA.

---