Buying or Selling a Silver Cloud Coupe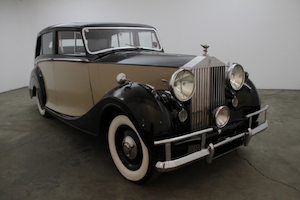 By the mid-1950s, Rolls Royce had been in business for half-a-centurys time, with Charles Rolls and Henry Royce having opened the proverbial doors in 1906. Across that long stretch, the company had established and maintained a sterling reputation for engineering excellence, flawless performance, and supreme luxury. It was the last of these, luxury, that would most characterize the brand, at least in the mind of the public, but brilliant engine design and variable styling were equally essential cornerstones where the Rolls Royce quality standard is concerned. The Silver Cloud Coupe embodied each of these cornerstones, and did so while standing as a marked improvement over the Silver Dawn that its base design had replaced in 1955. What rendered the Silver Cloud Coupe unique was strictly a matter of numbers: while over 7000 Silver Clouds were produced during its 12-year run, the overwhelming majority of these were of the standard 4-door salon style. Coachwork design variants numbered fewer than 1000.
Aside from its two-door design, the Silver Cloud Coupe was home to the innovative engineering elements found in every Silver Cloud model. Earlier models (the Silver Cloud I) were powered by a 4.9-liter straight-6, while later models (II & III) used a 6.2-liter V-8 engine. These were heavy, strong engines capable of moving along the relatively cumbersome Silver Clouds at speeds of over 100 miles per hour. It should also be noted that the inclusion of a 4-speed Hydramatic transmission, courtesy of General Motors, immediately set the Silver Cloud I apart from its Silver Dawn precursor. Stronger engines, cosmetic differences, and generally improved performance combined to render the Silver Cloudcoupe and saloon alikea Rolls Royce mainstay for over a decades time.
---
Looking to purchase a classic Rolls Royce?
---
Silver Cloud Coupe Buyers Guide
Being as so few Silver Cloud Coupe variants were produced during the models dozen years of production, they are somewhat challenging to track down. Fortunately, you have an ally in the Beverly Hills Car Club, a renowned operator within the industry. Schedule some time to view the Beverly Hills Car Club inventory, which is varied and numerous, or visit the website for a preliminary look. Once you have a classic whip in mind, head down to the showroom for a drive.
Learn More About Classic Rolls Royce:
Spread the word!
---
We Also Buy Classic Silver Cloud Coupe In Any Condition, Top Dollar Paid.
And We Pick Up Anywhere In The USA.

---