Buying or Selling a Silver Cloud Long Wheel Base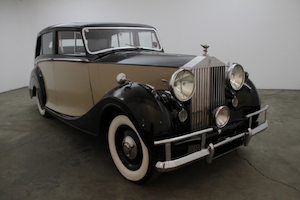 Having been produced during all three generations of its parent models manufacturing run, the Silver Cloud Long Wheel Base was a variation on the luxury sports care designed to afford its rear-seat occupants considerably more leg room. The Silver Cloud Long Wheel Base measured, like its standard counterpart, measured 74.75 inches in width and 64 inches in height. Its wheel base, however measured 127 inches, compared to the shorter (or standard) versions 123 inches. To the naked eye, this four-inch disparity was largely invisible, but the interior difference was certainly appreciated by those passengers relegated to the backseat. And being as the Silver Cloud was a model designed with luxury front of mind, even a minor difference in interior space may well make all the difference.
Aside from the difference of a few inches, the Silver Cloud Long Wheel Base was everything its Rolls Royce manufacture had intended. The Silver Cloud I, for instance, putted about via its 4.9-liter straight-6, an engine capable of dragging the two-ton land vessel at speeds of over 100 miles per hour. Subsequent generations, the II and III, employed an enormous 6.2-liter V-8 which could yield 220 horses beneath the Silver Clouds lengthy hood. A four-door saloon designed with both comfort and precision performance in mind, the Silver Cloud was a direct outcropping of the tenets laid down by Charles Rolls and Henry Royce in 1906. Whether boasting of an extended wheel base or coasting about under the standard measurement, the Silver Cloud is class and power fused handsomely into a single framework.
---
Looking to purchase a classic Rolls Royce?
---
Silver Cloud Long Wheel Base Buyers Guide
Though not as rare as are other sub-variants, the Silver Cloud Long Wheel Base was produced in reasonably large numbers throughout the late-1950s and early-1960s. This is to say that your likelihood of identifying a unit aligned with your price and condition preferences is strong. Strengthen that likelihood still further in working with Beverly Hills Car Club and its supremely knowledgeable staff. Visit the website or come down to the showroom. Our team is ready to earn your trust, business, and friendship.
Learn More About Classic Rolls Royce:
Spread the word!
---
We Also Buy Classic Silver Cloud Long Wheel Base In Any Condition, Top Dollar Paid.
And We Pick Up Anywhere In The USA.

---